All educational videos are paid. I try to make them as accessible as possible. Promotion periodically. I hope that despite the difficult economic situation in the country, you can afford the Shibari.Guru lessons and thereby support the project. Video services providet by Vimeo.
There are two subscription options:
1.Training lessons are sold separately — i.e. you pay for each video. This will allow you to choose the ones that you need right now. The right to view is acquired forever (if Vimeo does not close). In the future, even when updating lessons (I plan to re-play them), access will remain. Downloading videos is prohibited.
2.Full-length video of performances are sold on a monthly subscription model. So do not forget to unsubscribe if you review all the video appearances!
A small instruction for using the service:
Find the lesson and read its description, make sure that this is what you need.
Click on the «Buy …» button with the price (see the red arrow in the picture).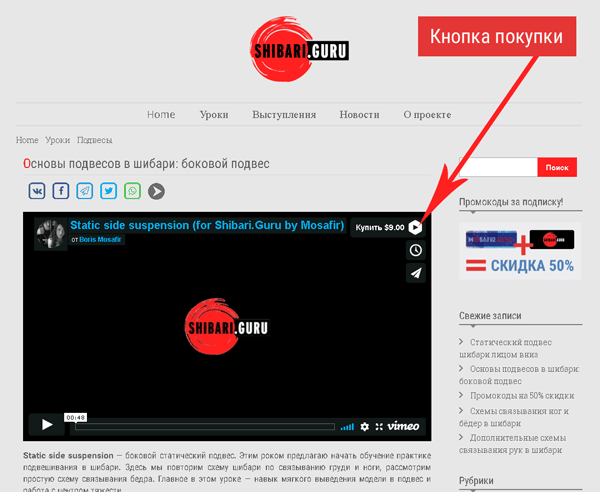 You will see the payment page. Select a payment method (card or PayPal) and enter the promotional code (if you have one).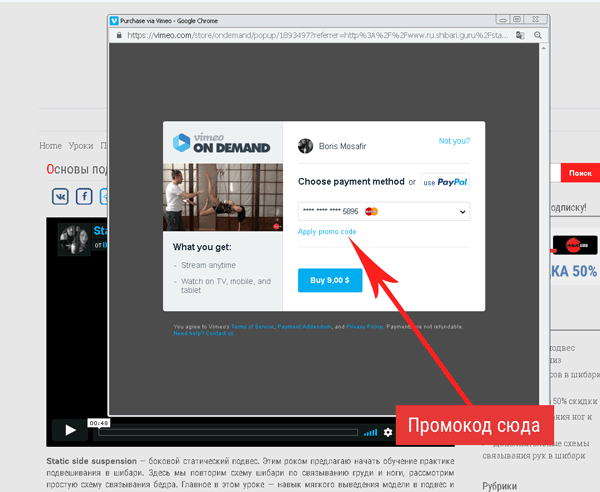 If you have questions, suggestions, then contact: shibari.guru@artco.su